ThiEYE WiFi Dashcam Safeel Zero+ the Best Choice for Your Car
Safeel Zero+ Dashcam is a compact and circle design car dash cam with an exceptional Full HD 1080P video and built-in vivid HD 1.5 inch display screen that enables you watch current video view in real time or review recorded videos of past events. With the built-in WiFi, you can also use the ThiEYE DVR APP to control your dashcam, download stored images on your phone, configure settings or simply view your recordings.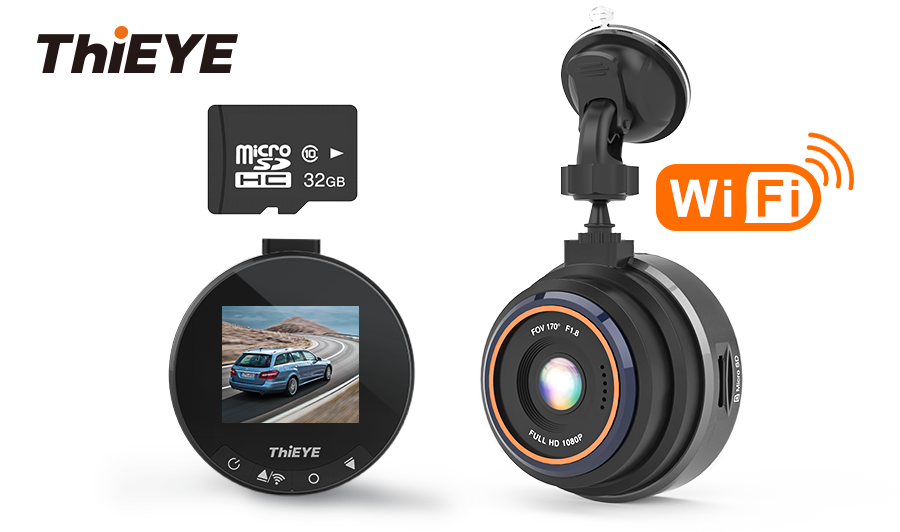 Perhaps the most striking thing about this ThiEYE Safeel Zero+ is that it hardly stands out. Due to its compact design, it easily fits behind the interior mirror or anywhere else on the windshield. Because it's almost invisible, he does not bother the driver too much and is perfect to guard your car with.
We also like him his of an orange point around a front, it is very sporty to look, it's the apt tune by heart of car interior.
On the compact but clear 1.5 inch LCD screen the menu is easy to operate and you can view the live or saved recordings. The Safeel Zero+ also has a screen saver that turns the screen off after a set time so that the dashcam does not bother the driver too much. The recording will continue as usual and the LCD screen can be reactivated with one press of the OK button.
ThiEYE Safeel Zero+ Wifi Dashcam films with sharp Full HD 1080p recordings in 30fps. Due to the good image quality during the day and in the dark, a lot of details - such as license plates and people - are easily recognizable. The resolution of the Safeel Zero+ can also be set to 720p.
It comes with a 32gb Micro SD card, continuous loop recording (It keeps recording without interruption by overwriting old videos), G-Sensor (detect collision or sudden braking), built-in speaker with microphone, microSD card slot and motion detection, parking monitor. With its large viewing angle of 170 degrees a very large area is also included around the car so that you don't miss anything.
It also comes with a handy Dual Micro USB cigarette power supply. In the plug of the power supply there is an extra USB port on the back that you can use to charge other equipment in the car.
The dashcam is for those of us concealed wants a protect of video in case that of an accident. Safeel Zero+ dash cam features with two mounts, one with adhesive mount and one with suction cup mount, this makes mounting the dashcam in every vehicle a piece of cake. But what we prefer is that it was the super easy installs, and the daily use is super easy.
Related Article Links: Best Dash Cams Under $100 – Reviews & Buying Guide 2020
---